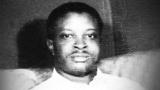 This is Wharlest Jackson.  He accepted a job promotion and was killed for it.
There's a saying in the African-American community about whether there's JUSTICE, or "JUST US"?  If you want to really be in the know, I'd like to suggest that you tune in tonight to ID Discovery Channel and watch "The InJustice Files", which are a series of documentaries showcasing the efforts of the FBI's Civil Rights Cold Case Unit, and highlighting the cases of unsolved crimes against African-Americans during the Civil Rights Movement and beyond.
Critically acclaimed filmmaker Keith Beauchamp ("The Untold Story of Emmett Louis Till") teamed up with CBS Eye Productions,the Discovery Channel to bring other untold stories of African-Americans murdered, lynched and subjected to home-grown American Terrorism before the label "terrorist" was coined.  The first case, about a family man named Wharlest Jackson, will air on ID Discovery Channel at 9:00pm Eastern Time, and willl re-air at 1:00am.
If you got to get your clubbing on, then please set your DVD or TiVo to capture these stories of extraordinary men doing extraordinary things and paying for it with their lives.  Up tonight is the story of Wharlest Jackson, a worker at Armstrong Tire and Rubber Factory in Natchez, Mississippi, who was also the Treasurer for the local chapter of the NAACP.  On February 27, 1967, Mr. Jackson got a job promotion to a position that only white guys believed they should get, and on his way home from work, his car is blown up.
His son, Wharlest Jackson, Jr., rode his bike to the scene and unfortunately witnessed the results of a sophisticated murder plot of a brotha whose only offense was to get promoted on the job.  The purpose of this documentary is to catch Mr. Jackson's murderers.  Since they finally locked up the murderer of Medgar Evers (albeit it took 30 years to get that SOB), if the Cold Case Unit does IT"S job, the murderer of Wharlest Jackson should be caught as well, if that SOB is still alive.
I viewed a preview on Capitol Hill yesterday at a luncheon hosted by Rep. Bobby Rush (D-IL), and got a chance to meet the family of Wharlest Jackson, as well as the filmmaker himself, Keith Beauchamp, who spared me a few minutes to chat with CPL about his goals for these documentaries.
Mr. Beauchamp told me that his goal is to seek justice for the families of the murder victims.  His documentary on Emmett Till was the launching pad for his film career, and the format that he uses in teaming up with Cynthia Deitel, head of the FBI's Civil Rights Cold Case Unit, is more of "CSI Meeting the Civil Rights" – using 21st Century technology, as well as being able to go where no one else has bothered to go before in interviewing the families of the murder victims.  Mr. Beauchamp stated how many people in the Deep South, despite laws and more willingness to go after and prosecute home-grown terrorists for hate crimes, many of US are still too scarred or too SCARED to talk.  He gets the access that no one else can, or won't.  I say "Won't" because my colleagues on this blog continue to report about the numerous attempts on the part of Mississippi's Governor, Haley "Boss Hogg" Barbour and a few Congress Critters to re-write or just white-out those events of American History that do not portray America at her finest hour.
I asked Mr. Beauchamp if he had any response to Boss Hogg's attempt to re-write Civil Rights history and he said "His actions does not merit a response" but his tone said volumes.  I suggested he send a hand-delivered DVD of the entire "InJustice Files" series to Boss Hogg, or better yet, extend an invitation when the team (on tour) gets to Natchez to premiere the Wharlest Jackson story, and then report as to whether or not Boss Hogg shows up or declines.   BWAHAHAHA.
"The InJustice Files" sets out to educate those willing to be educated, about how horrific and scary it was to not only be Black in America, but Black in the DEEP SOUTH.  It's not called the "Dirty South" for nothing.  So when those who would tell or ask why African-Americans still harp on what it is like to be continuously violated and villified for nothing more than being of a different race, point them to the "InJustice Files".
I committed to posting for the next two Fridays a post promoting the remaining documentaries. so you will see an "InJustice Files" post with snippets to interest you in tuning in to the show.  You won't regret it and you'll be more enriched and rewarded for it.