Black people are prone to conspiracy theories. We enjoy them — we like to share them, parse them, invent them, update them. And while charming in a way at times, disturbing and/or offbase at other times, a deep interest in conspiracy theories persist because our community has been the victim numerous and well-documented times of actual conspiracies against us of a harmful nature.
The Tuskegee Syphilis Experiment stands out as a legend as does the refusal to inform slaves in Texas for 2 years and a half of the Emancipation Proclamation. The Juneteenth holiday celebrates the day Texan slaves were finally freed for real. And really, I don't think we have time today to get all up into COINTELPRO, but kids, if you don't know what that is, I'd suggest you click this link.
Soledad O'Brien is well-known to us at JJP for her Black in America series on CNN. We've had lively discussions/debates re: Black in America and other In America shows on CNN in the past. I can't say I've always been a 100% fan of the series.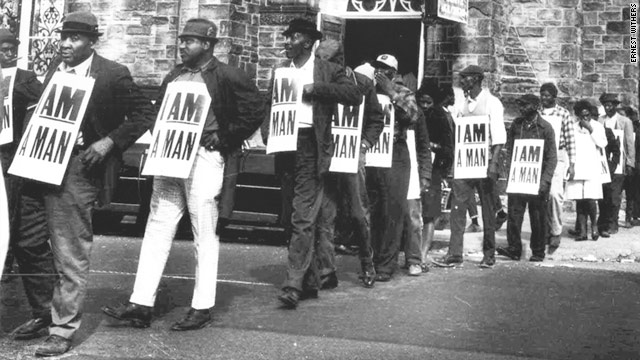 This time, though, Soledad (who is half black btw) has something very special that I think is worth your time. She has unveiled a whole new conspiracy for your parsing pleasure: the FBI's Ghetto Informant Program. Her new Black In America special "Pictures Don't Lie" — fresh for Black History Month — focuses on Ernest Withers, who took many of the most powerful, iconic and influential photographs during the Civil Rights Era. You may not have heard of him, but you've seen his pictures of Martin Luther King or marchers holding signs saying I AM A MAN, most likely. He was a welcome and integral member of the movement. He was also, as it turns out, an FBI informant — one of thousands recruited during the 1960s & 70s.
Soledad was kind enough to speak to me on the phone Wed about this latest project in the hopes it would intrigue you. According to her, she became interested in Ernest Withers because of his importance in bringing the civil right struggle to life and in making sure his photos were passed to folks outside of the black press. She told me re: Withers' complex history:
"He helped make the movement. His story shows that it was a critical time in the United States. It sheds light on the FBI of that time and what it was like to be African-American at the time."
Most of Withers' friends and family don't want to believe that Withers was an informant even though "there's proof and documentation", Soledad says. She sees his story (given the evidence) less of a whodunit (since, you know, he took money from the FBI for information) but a whydunit. Was he coerced or threatened in some way or just a desperate and underpaid photojournalist willing to take a handout to continue his groundbreaking work.

But others don't mind if Withers was an FBI snitch. She spoke to Andrew Young who said essentially that the movement was open and transparent. Furthermore, civil rights leaders weren't nearly as afraid of the FBI as they were of local police. According to O'Brien, Young recounted a time in one location where the local police just "deputized the entire KKK in the area". That definitely sounds hella scary.
I had to ask Soledad about COINTELPRO since she spoke to the FBI directly. She says the special only touches on this, but the FBI told her that they see the so-called "Ghetto Informant Program" as not related or the same as COINTELPRO. According to her, the FBI says that the GIP was just "a way for thousands of people to report what was happening in their communities" around the country.
I know, don't even try to suppress your cynical laughter or keep a straight face as the absurdity of this assertion. You might hurt yourself. She didn't try to defend them — she just says that's what they say. Evidently there were up to 7000 – SEVEN THOUSAND — paid "ghetto informants" passing information on how their neighbors were participating in the civil rights movement to the FBI. A snitch in every hood. Incredible. From a 1976 Senate Intelligence Committee report on the GIP (doncha just love the internet):
The FBI budget for Fiscal Year 1976 programmed a total of $7,401,000 for the intelligence informant program, more than twice the amount allocated for the organized crime informant program. 8

The number of intelligence informants has been substantially larger in previous years because of the "Ghetto Informant Program," which at its height comprised over 7,000 informants. The FBI began the Ghetto Informant Program in 1967 in the context of the urban riots and violence of the mid-1960's, and in response to instructions from the White House and the Attorney General. Although "ghetto" informants were initially used as "listening posts" to provide information on the planning or organizing of riots and civil disturbances, many were eventually given specific assignments to attend public meetings of "extremists" and to identify bookstores and others distributing "extremist literature". The FBI terminated the program in 1973 after sharp debate within the Bureau over the program's effectiveness and the propriety of the listening post concept.
Anyway, I have to say — this seems like kind of a must-watch. DVR it and watch with your kids! It's airing Sun. Feb 20 at 8pm est/pst and again on the 26th.
And let us know here in the comments about this latest conspiracy on Black America… Does Withers' activity as an informant take away from the power of his photos or ultimately were those bigger than anything the FBI could do to blunt their impact?