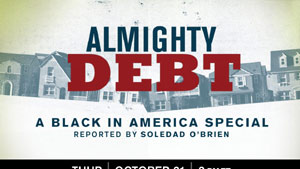 At least she spoke to Jill Tubman and me on Tuesday, discussing the context of the "—– in America" documentaries over at CNN.  What she had to say was insightful, but I still hold that you should watch the documentary "Black in America: Almighty Debt" tonite and form your own opinions.
Once you've read this interview, if you're still inclined to blog about the documentary, or Soledad's interview with JJP, consider this thread a semi-live blog.
After going to NYC to watch the preview of "Almighty Debt" and participate in the Town Hall discussion, which featured a panel of Bishop TD Jakes, Rev. DeForrest "Buster" Soaries, Terrie Williams, Michele Singletary, who writes a financial column for the Washington Post and pollster Cornell Belcher, I asked Soledad's producer, Van Scott, what were the chances of getting a one-on-one interview with her, and here you are.
JJP: What is the motivation for the "Blacks In America" series?
SO:  Well, We've done 3  Blacks In America documentaries, and we're currently working on a "Gay In America documentary titled "Gary and Tony have a Baby", and we have plans for a Latino In America documentary and possibly one on Native Americans.
The idea was not mine at all — CNN leadership  approached me and  asked me if I'd be prepared to look at the anniversary assassination of MLK – from MLK and the Civil Rights Movement to where Black America is now. The first documentary did so well and sparked so many conversations that we decided to do another one.
We wanted to look at the black church because it's a powerful influence in the lives of Black People.  We particularly focused on Pastor Soaries because he is obsessed with the effect of debt on Black wealth.  His grounding in the civil rights movement — he sees work on debt as an extension of his civil rights work as a teenager in freeing Black people from a different kind of slavery, because he equates debt with slavery.
JJP: Do you agree with Pastor Soaries' opinion — that debt is equal to slavery for African-Americans?
SO: I think he was being provocative.  Yet, when I repeated this to the people in the documentary, they all nodded their head and said,  "I am in bondage." People who are in debt are already in hell. Debt is something you personally can change.
Pastor Soaries compares debt to racism – whereas, debt is a personal decision that can be worked on; compared to racism, which is external.  We must adopt an attitude of "do it yourself" because no one else is going to do it for you – not the Government – NOBODY.  Just like survivors of Hurricane Katrina waited for someone to come and get them; yet no one is coming for you – the situation with debt is very similar – no one is going to get you out of debt.
JJP: What types of research and preparation go into the production of the "Black In America" documentaries?
SO: The documentaries are done more from a journalistic perspective as opposed to a research one; we're following people around with our cameras and catching their lives and circumstances as they unfold.  People have to be willing to allow a camera to follow them around for months at a time.  Then there's the people we decide to work with in the course of filming – you have to choose someone that the viewers are going to want to watch for 90 minutes.  Pastor Soaries was one of those individuals, and the college student, Fred, was another one.  CNN has a team of people to find and develop those riveting characters in the documentaries.
JJP: Why should black people watch these documentaries? Why should people of other races & ethnicities watch them?  What do you hope people take away from the series?
SO: The stories I do are about great story-telling. It's never about that (racial/ethnic) — If it's good story-telling, it should be compelling to everyone. These are stories about Haiti, the Chilean miners — it doesn't matter if you're Haitian or Chilean because it's a compelling story. It shouldn't make a difference and it doesn't.   The documentary covers the story as it unfolds, making people pay attention to the story – being riveted by the unfolding story that's holding their attention.
JJP: The special mentions Carl's age as a factor in his job search yet there's no mention of the special challenges that a 58 year executive has no doubt faced as a black man rising through the corporate ranks? Why is that and will the special cover the unique challenges that African-Americans who are too often last hired and first fired while facing  one of the toughest job markets in American history?
SO: We talk a lot — he never raises the fact that his race is having an impact on his search. We looked at the statistics and we saw that African-American men in particular are being hit hard.  When he said that he felt "less than a man" because he can't find a job after being downsized from his position as a VP in an insurance company, and where he had been for more than 25 years; while watching his wife go to work to support the family – that was incredible. We were so appreciative of these people — they were so open and so brave. I don't know if I could do it.
JJP:  Has the online critique from blogs and twitter influenced how you approach the Black in America specials? How is outreach for these changing to the black community in response?
SO: The critiques come too late for feedback as to what could have been covered in the documentary, which is why we're beginning to have preview screenings of the documentaries before they air nationally;  I don't normally talk about a project as I'm developing it – I don't "tweet" about what I'm doing; I present the work when it's finished. Now that we're done with the documentary, all that you can do is gather influences that will determine what you work on the next time.
JJP:  There is an attempt to draw a connection in Almighty Debt between the current economic challenges faced by African-Americans and the legacy of slavery and legalized discrimination.
Why doesn't Almighty Debt cover the documented predatory and discriminatory lending practices of the nation's largest banks (now finally under federal and state investigation, foreclosure freezes and so forth), targeted at the African-American dream and which ended up leading to a global economic recession? Isn't that an important part of the story?
SO: We were able to talk about unfair practices of the past in an organic way. The documentaries allows us to explain present day, real time events.  Why didn't we talk about predatory lending?  Because it was not part of their (the Jeffries) issue. If we had not had the Jefferies in the documentary, I wouldn't have covered that –I tell stories connected to the people we're covering.
JJP: During the Town Hall discussion, there was a lot of discussion about how to get out of debt, but Terrie Williams, and Julianne Malveaux, in the documentary, pointed out the need to examine the spiritual and psychological causes which compels people to make decisions to get into debt in the first place.  Why wasn't more discussion facilitated to cover the psychological effects of debt, racism, etc.?
SO: You're right in that the discussion of the psychological effects of racism, slavery, debt – that subject could warrant a documentary of its own, but we wanted to focus on how a person's faith motivates them to take action.
JJP:  Soledad, we thank you for taking the time to talk to us and our readers at JJP.
SO:  You're welcome.  Gotta get back to work!
Well, what can I say?  Again, watch the documentary and then join us for a blog discussion after.