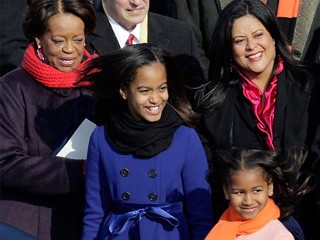 I think most normal Americans would prioritize the Obamas that they would like to meet in roughly this order:
1. Bo
2. Michelle
3. Sasha
4. Barack
5. Malia
And yet, there's another member of the Obama family resident in the White House who has managed to keep a mighty low profile. And that's Michelle Obama's mama, Mrs. Robinson to you.
I'm not sure if the media is just totally uninterested in Mrs. Robinson or if she really has chosen to fly under the radar of America's lust for celebrity. Even her Wikipedia page is scant, offering not even the peeks we see of Miz Marian at basketball games or handing out Halloween candy at the White House. Yet here is this completely ordinary average black senior citizen and former secretary who has moved from her lifelong home in Chicago and has been catapulted into the White House. I mean, talking about the Jeffersons – now that's really "movin' on up".
I would love to hear more about how this active 72 year old raised an amazing woman like Michelle Obama. I'd love to hear about her history, her drive, her morals and values. Wouldn't you? Naturally I'm not the first to ask about "The First Grandma: Who is Marian Robinson?" Yet — How many interviews have you seen with her? How many stories about her have you seen in the media. Very few. Ain't that strange? Is it because African-American women, especially of a certain age or generation, are unvalued by American culture? But doesn't Mrs. Robinson have so much wisdom to share with us? And hasn't her life been inspirational, indeed, showing that anything can happen in America if you work hard and provide strong values plus an excellent education to your children? From a May WashPo article:
If she stays through Mr. Obama's term, she will be the first mother-in-law to live in the White House full time since the Truman presidency, historians say. She declined to comment for this article, but when asked recently by Essence magazine whether she was enjoying her new life, she answered in the affirmative.

"I really am," she said. "You want to know why? Because my children are good parents. It makes it very easy to be a grandmother when your children are good parents."
Those of us with older African-American women in our families can imagine both the joy and excitement – and the challenging transition to having a whole bunch of servants around. I think you know how your big mama would react to living in the White House. Mine would be showing the staff her personal method of vacuuming, ironing, bed-making or laundry. Mine would be insisting on making her grandbabies' lunches for school because "who knows where these people's hands have been". Mine would probably follow the staff around to make sure they didn't steal anything the family brought from Chicago. At least for the first few days. Or weeks. There would be a certain…"transition".
I'm kidding. Really.
But you know what I'm talking about, black people.

Here's the other thing we're not talking about. Mrs. Robinson has to be the most eligible bachelorette in the free world. I mean, you know Barack or Michelle Obama is always going to take her calls day or night cuz it might be about the kids. She's got power AND proximity. She is the chief influencer on the most influential people in Barack Obama's life. Is anyone trying to push up on that? Or is it like Tiger – we just assume it's not happening so the media has its focus elsewhere.
Interns or young staffers, here's my strategic advice to you: Mrs. Robinson. Sure, she's not going to go for you that way. She's no "MILFLOTUS", if you will (Mother-In-Law, First Lady of The United States) Her type is more likely to be a courtly, distinguished retired three –star general. Or possibly one of the longtime senior butlers in the White House who would have been a doctor if segregation hadn't pushed him into another career.
In Black culture, grandmothers and older Black women in general are seen as oracles of wisdom. They are goddesses. They are treated with maximum respect due to their successful example & experience surviving in an America that is not always kind to black women. They are miracle workers who somehow "made a way outta no way" and made sacrifices for their children that are almost incomprehensible.
As deferentially as possible, ask her to tell you a story – not about Michelle's youth – but about hers. Be patient – it will take time and patience for her to trust that you are sincerely interested in her and not POTUS/FLOTUS. Once you hear a good story, do not tweet, blog or Facebook it. Instead, introduce one of your buddies in the White House to her in person in a casual, seemingly impromptu way one day: "Joe, have you met Mrs. Robinson? She was just telling me the other day what it was like to work at a bank in Chicago back in the sixties. Mrs. Robinson, do you have a minute to tell Joe that story – you'll tell it better than I can."
Bring her not flowers – far too presumptuous & familiar. Maybe some spice drops, red-hots or whatever old-fashioned candy she and all black women of a certain age seem to prefer. Not fancy spice drops either. Get the kind you can get at a regular drug store in Chicago. That's what she's probably homesick for. But don't make a big deal of it. Just slip em to her with a wink. Unless there's someone whose East Wing job it is now to supply Miz Marian with her spice drops or red-hots. Don't step on any toes.
You'll know you're being successful when she starts to smile at you rather than just peer over her reading glasses at you suspiciously. When she pats your hand affectionately. Over time, if you're very successful, she will take you under her wing and maybe put in a good word for you at the right time with the right person. She won't do this in front of you and might actually deny doing it if you ask her about it – just a headsup there. If you ask, you might get something like "Oh, did so and so say that? Mmm hmm…well, isn't that… nice."
In short, I think the most fascinating person in the White House is the one we know the least about. I hope that Mrs. Robinson will step out of the shadows when she feels more comfortable and tell us more about her life, which can serve as a galvanizing inspiration representing so many unsung heroes and heroines. And if she's unwilling, I'd appreciate the press telling us more about Miz Marian. She's amazing and worth getting to know, I'm willing to bet. And looka-here, I'm ready for the sitcom. Jeffersons 2.0: White House Edition.
Photo Credit: (Jae C. Hong/AP Photo)