CNN began airing their highly-publicized series, "Latino in America," last night,  and I have to say, their coverage of the uptick in hate crimes against people of color  was powerful.  The series delves into the racially motivated murder of Marcelo Lucero by a group of high school football players in  small-town America and does it with a clarity that leaves viewers understanding  what a hate crime murder really is.
CNN's "Latino in America" series  tells the chilling, now-infamous story of Marcelo Lucero's brutal murder in Shenandoah, PA:
SHENANDOAH, Pennsylvania (CNN) — Crystal Dillman says she will never understand why a group of teenage boys beat her fiancé to death.

She says she  will spend the rest of her life seeking answers — and justice — for  the man she has lost as she struggles alone to raise her three young  children.

"My life is forever destroyed," said Dillman, who was 24 at the time of her fiancé's death. "My family is forever destroyed."

Her fiancé, Luis Ramirez, an undocumented Mexican immigrant, was  walking down the street in Shenandoah, Pennsylvania, on July 12, 2008,  with Dillman's half-sister, who is white.

A fight broke out  between him and a group of white high school football players. He died  from his injuries two days later, leaving a small community stunned at  the brutality of the crime.
Here's a photo from Crystal, of the couple: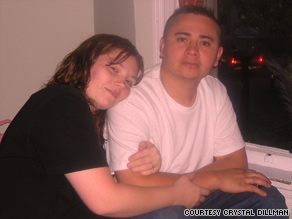 Unfortunately, Marcelo's murder is no isolated incident. Hate crimes against  Latinos have been on the rise for the fourth  straight year in a row, according to FBI statistics, and Marcelo's murder  has been echoed in a number of hate crimes across the country.
This trend has many names: Marcelo Lucero, Mario Vera— even little nine-year-old Brisenia Flores.
Today New York Daily News' Albor Ruiz reports on a vigil that took place yesterday for Mario Vera, an Ecuadorian immigrant whose family has been left without any means to sustain themselves. Mario endured a brutal, racially-charged assault in Brooklyn in late September:
Bushwick residents, elected officials and community leaders, deeply worried  about the dramatic increase of hate crimes in their neighborhood, held  a vigil on Wednesday demanding the city develop a long-term response to  the problem.

They gathered outside Beth Israel Hospital, where Mario Vera, a Mexican immigrant, remains a patient after he was viciously attacked on Sept. 23 by three thugs who beat him on a Brooklyn street while yelling racial insults. The city posted a $12,000 reward for their capture.
So CNN is right to shine a spotlight on this very disturbing and dangerous  trend. But, as I mentioned, we're still left  with the question, "How  and why is this happening?"
Could it have anything to do with the  fact that, day after day, immigrants are described on television by "journalists", like CNN's  Lou Dobbs, as leprous invaders hell bent on taking over America?  Might this contribute to a political culture that  has accepted the word "illegal" as code for brown, poor, less-than-human?  Pundits  and politicians who  gain popularity by stoking fear in  those with some anxiety about our changing culture? (Remember that Lou  Dobbs repeatedly raised the question of whether President Obama was, in fact, an undocumented immigrant.)
What do you all think?  Is half a story better than  none?
Cross-Posted at America's Voice.