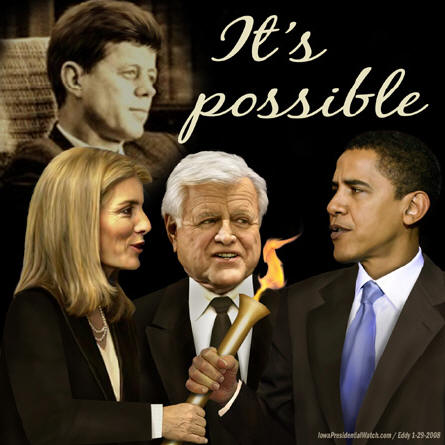 Talk About a Political Dynasty.…
I couldn't be more pleased. From the New York Times (hat tip, Crooks and Liars):
Caroline Kennedy, the daughter of an American political dynasty, has decided to pursue the United States Senate seat being vacated by Senator Hillary Rodham Clinton of New York.The decision came after a series of deeply personal and political conversations, in which Ms. Kennedy, whom friends describe as unflashy but determined, wrestled with whether to give up what has been a lifetime of avoiding the spotlight.

Kennedy made calls on Monday morning to alert political figures to her interest.

Gov. David A. Paterson of New York confirmed that she was interested in being appointed.

"She told me she was interested in the position," Mr. Paterson said at a news conference. "She realized it wasnot a campaign, but she was talking to other people because shethought that a number of people, she felt, should know that she'sinterested in the position. She'd like at some point to sit down andtell me what she thinks her qualifications are."
Caroline might be part of the most famous political dynasty in America, but I think she's demonstrated she's more than qualified for the job, regardless of that dynasty.
Besides, "Senator Kennedy", who has been a longtime New Yorker, probably goes down better than the carpetbagger…er, future Secretary of State did.  And, she'll have Obama's back in a major way, plus Unca Ted should be on hand to bring her up to speed.
I've always been a fan of the Kennedys because they walk their talk and even in scandal (every family has a black sheep cousin), the majority of them, like Caroline and her late brother, John (Gawd, he was fine) managed to stay classy, and even called one another out on their shyt.
New York has another thing to celebrate if Caroline gets the job, which I'm sure she will, cause Obama has already vouched for her.